YALSA's Teens' Top Ten Nominations Announced!
As part of their celebration for Support Teen Literature Day, YALSA announced the nominations for their Teens' Top Ten list. It's no surprise to us that Divergent made the cut!
Voting begins in August and winners are announced during Teen Read Week in October. We'll keep you posted on the dates. The Teen's Top Ten list is chosen (and voted on) by teens, so if you're an adult who reads YA books, check out YALSA's Readers' Choice list to nominate your favorites.
While you're waiting to vote for the YALSA's Teens' Top Ten, don't forget to how your support for Divergent by voting for it in the final round of the CCBA's. Voting ends on May 3rd! Click here to vote now.
Check out the entire nominated list of YALSA's Teens' Top Ten List, here.
Which titles are on your TBR list?
Support #TeamAmity by clicking the image below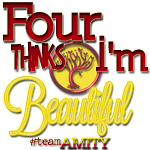 Tags: CCBA's, Divergent, Top Ten, Veronica Roth, Vote, YALSA