New Blog Update From Veronica Roth: The Giveaway of Many 4s: WINNERS
Veronica Roth announce 'Giveaway of Many 4's' in March. We posted about it here.
The winners were announced this week on her blog.
Here they are:
Vicky C

OmG! Omg! Omg!!! I N-E-E-D to read Insurgent.

I would've probably been born into ERUDITE because my family is big on committing yourself to studying and the importance of knowledge, so that's how I was raised.

I would choose to transfer to AMITY because I believe in kindness, forgiveness and that it is important for people to try to leave in peace with each other.

Thanks so much for the international giveaway!! (I'm from Argentina)

Lexi

I think I'd be born into Amity. And I'd like to think that I could be in Dauntless, but truthfully, I'd probably die in initiation soooo…I'd either stick with Amity or switch over to Erudite. Can't get enough of them books! P.S. I love Divergent and everything about it, by the way. I would probably cry if i

won

this. Tears of joy, of course 🙂 Thanks for the giveaway!

SillyJillyy

I would have been born into Candor. But I wouldn't be able to stay because lying is to easy for me. I would like to think I could be tough enough to go into Dauntless but I know I wouldn't. And I'm not smart by any means so no Erudite. And I could never be truly selfless, so that cancels out Abnegation. And pigs will fly the day I'm truly happy and can't argue with anyone. Amity wouldn't work for me. I guess I'm a bit Divergent 🙂

Divergent was my obsession for weeks. I can't wait to freak out over Insurgent 🙂

My entry for the Insurgent ARC giveaway- I would have been born an Erudite because my folks are really smart but I would probably have switched to either Dauntless (because I am always rebelling against my parents) or Candor ( because lying my pet peeve) 🙂 Thanks for running this giveaway x
To read the rest of the post, click here.
Support #TeamAmity by clicking the image below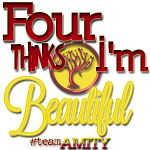 Tags: Divergent, Giveaway, Insurgent, The Giveaway Of Many 4s, Veronica Roth, Veronica Roth Blog