Four Is Free: Read His POV Now!
We did it, #DivergentNation! Enough copies of Insurgent have been pre-ordered, and now Four's point of view is in our hands! As promised, Harper Collins & Veronica Roth have released a scene from Divergent in Four's point-of-view because pre-orders of Insurgent have reached over 35,000.
The scene comes from chapter 13 of Divergent and gives us a look at Four's thoughts during the "knife throwing scene."
Here's a teaser:
They scramble for knives like factionless kids over a spare piece of bread, too desperate. All except her, with her deliberate movements, her blond head slipping between the shoulders of taller initiates. She doesn't try to look comfortable with the blades balancing on her palms, and that is what I like about her, that she knows these weapons are unnatural yet she finds a way to wield them.

Eric walks toward me, and I back away by instinct. I try not to be afraid of him, but I know how smart he is and that if I'm not careful he'll notice that I keep staring at her, and that will be my undoing. I turn toward the  target, a knife in my right hand.
Thank you, thank you, thank you, Veronica Roth & Harper Collins. I'll just be here patiently waiting for the rest of the book to be released from Four's perspective.
Click here to read the entire scene, then head back here and let us know what you think and if you want more!
Support #TeamAmity by clicking the image below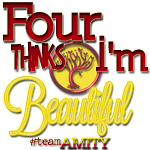 Tags: Divergent, Four, Free Four, Insurgent, Tris