@ColtonHaynes As Four? We approve.
So normally we wait to post speculation until we have the facts, but this time we just couldn't resist.
There have been numerous rumors flying around about different actors who might be up for the role of Four. (for more on that, see our posts here and here) But the latest actor whose name is spreading through the fandom has definitely caught our attention.
We've always had a very specific idea of who could/couldn't play Four. That's no secret. And while he hasn't the actor that we originally picked, we think that Colton Haynes just might have what it takes.
In our opinion, Four is going to be difficult to cast. The person selected for the role is basically going to have to take on two roles. The Dauntless side, and the Abnegation side. The dangerous side, and the vulnerable side. The sexy sarcastic side, and the swoony, sweet, sigh-worthy side. He has to be able to throw knives and look scary, but he's also got to be able to deliver lines  like this- "Someday" he says, "if you still want me, we can…" He pauses, clears his throat. "We can…"  He's got be Four and Tobias.
So why is Colton's name being tossed around more frequently now? Well there's a few reasons.
– Earlier this month he announced he was leaving MTV's Teen Wolf. Even the shows producers were shocked by the news.

– He (very) recently started following Veronica Roth on twitter

– He tweeted that he's got an announcement to share with his fans:

– He's pretty. So very, very pretty.
Alright, that last one isn't a real reason, but it makes us very happy and we've been seeing tweets that suggest some others agree!
Here's what some of you have said about this casting possibility: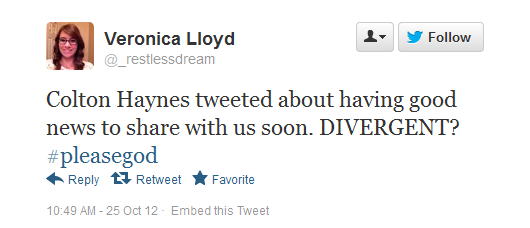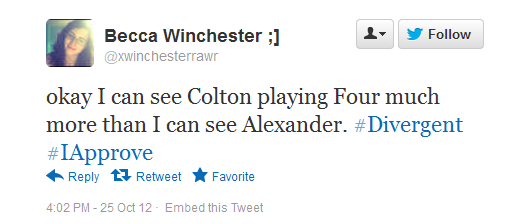 Right now this is all just  a lot of speculation, but we're hoping there's some truth to it.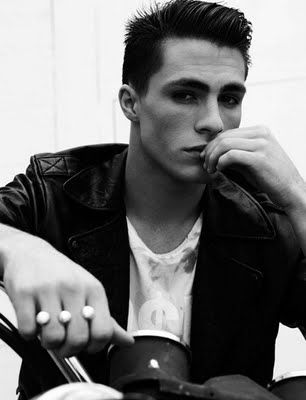 What are your thoughts? Would you support Mr. Haynes as Four?
Tags: Casting, Colton Haynes, Divergent, Divergent Casting, Divergent Movie, Divergent Movie Casting, Four, Movie Casting, MTV, Teen Wolf