First Look At Theo James As Four!
Here it is, Initiates. EW has revealed the first, long awaited look at our Four.
We can hardly contain ourselves. The teaser from yesterday was enough to excite us, but this? This is perfection.
What do you think? Sound off in the comments below!
UPDATE:  Here's part of the EW article with words straight from the man himself.
EW caught up with Theo James while he was on a break from shooting Divergent in Chicago where the production will continue until mid-July.  "Is this the picture where I have a t-shirt on and no pants? I was really hoping they'd use that one," James jokes, before explaining that this picture (note: he is wearing pants) captures a moment from early in the film when Four is showing the Dauntless initiates around their new headquarters. "I've introduced them to this world and they're still in the beginning stages of training," he says. "At this stage you don't really know what Four is all about."

James got a taste for leadership when much of the cast participated in a kind of boot camp before filming. James was even given the opportunity to take charge of the Dauntless training, leading the 50 or so actors that make up the core group of background Dauntless characters. "They didn't know he was playing Four, they thought he was our stunt coordinator," says director Neil Burger, with a laugh. "He put them through it."

Says James, "I know it sounds ridiculous but it was really quite useful: it helped set a tone for those scenes, being able to live the character a bit.  At one point, Shailene was laughing and I got real serious with her and said"—the actor lowers his voice to a menacing whisper—"Don't. Laugh."  He laughs. "Shai was like, 'um, are you joking right now?'"
UPDATE #2– A full version of the photo has now been released:
There's even more to love! Look at the Dauntless training in the background, at Theo/Four's clenched fists. What's not to love?
UPDATE #3: New High-Resolution Image (Who wouldn't want Four in high-res?)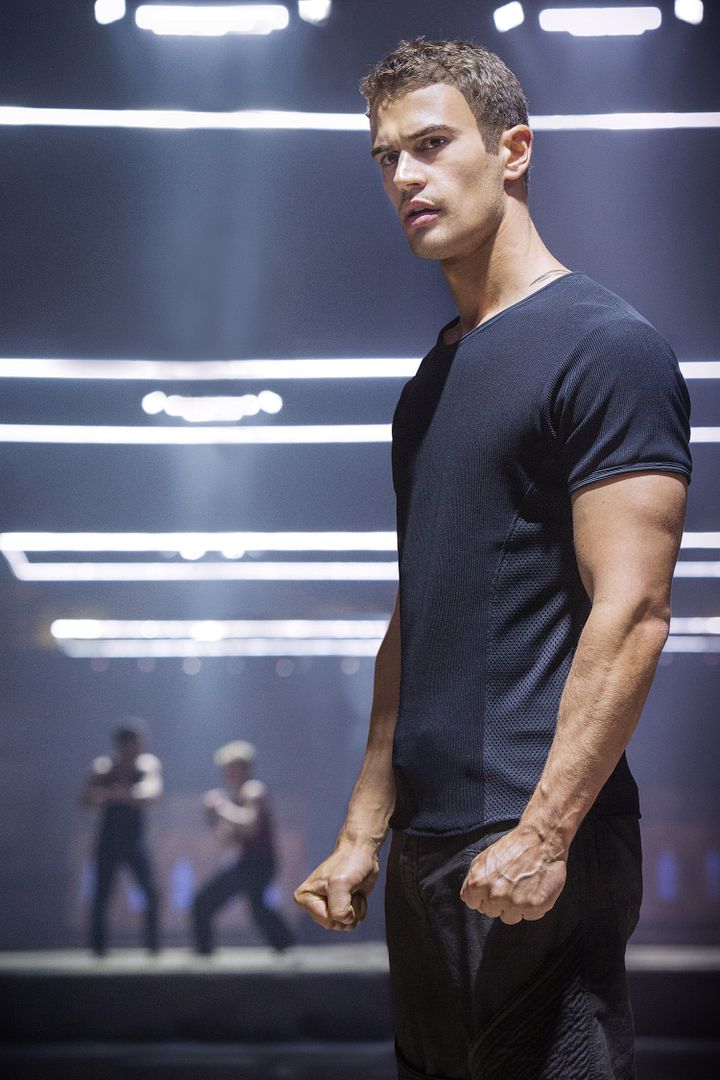 Tags: Divergent, Divergent Movie, Divergent Movie News, Four, Movie News, Theo James, Theo James as Four, Tobias