Team Amity
Today is the last day for the challenge!!!
Support #TeamAmity
It's almost here: INSURGENT is out tomorrow! Can you believe it?!? Today is the last day to show your support. How do you do that? It's easy!
Check out the Amity Faction News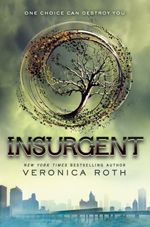 Check out the Check out INSURGENT on Harper Collins' site
The entire #TeamAmity family has some great giveaways going on and we thought we'd list them here for you.
There's lots of reasons why Amity is the team to support. We're peaceful, we have music, food & games, and if you need another reason, Four thinks we're beautiful. If you stick with us and support our team we promise to give back generously. We have A LOT of events and giveaways planned for the month of April. You're not going to want to miss anything.
So that's it. Click this link and check out the Divergent Lexicon twitter throughout the day for some more prizes!
If you want to share our link on twitter or you're own blog, here it is:
http://bit.ly/choose_amity
and
http://bit.ly/amityfaction
Read more in our post here.
…
There's still time to join our faction & support #TeamAmity?
If you're feeling factionless, or even divergent. I'm here to persuade you to join Team Amity.
If you decide to choose Amity as your faction, here's what you'll receive:
The first 40 members to sign-up will receive a swag bag from one of the Team Amity members
Every member will receive a "Four Thinks I'm Beautiful" bookmark
Every member will receive a welcome email from their faction leader
Every member will receive the Team Amity "Four Thinks I'm Beautiful" graphics (shown at the bottom of the post)
For joining Team Amity you will also receive 5 extra entries in the Team Amity Group Giveaway, which starts next Monday, April 9th. (This giveaway is going to be amazing!)
Other bonuses & opportunities will be made available throughout the month!
So. What do you have to do to receive all the goodies above?
It's pretty simple:
That's it. Have fun with it, and if you have any ideas on how to promote our team, send me a message or a tweet and let me know! I'd love to hear your ideas.
Ready to join us? Click here to fill out the form!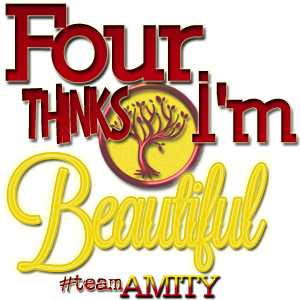 For more information, check out our post here.
…
#TeamAmity
A Life Bound By Books
All Things Urban Fantasy
Better Read Than Dead
Divergent Lexicon
Emily's Reading Room
Forever Young Adult
Hippies, Beauty, & Books. Oh MY!
I Swim For Oceans
Steph Su Reads
To read more, check out our post here.
…
#TeamAmity Giveaways
The giveaway starts today, Monday, April 9th at 12:01 EST & ends Monday, April 30th at 12:01 EST
To enter, all you have to do is fill out the form below.
There will be a total of 15 winners.  Enter here.
…