Come Celebrate #DivergentLoveDay With Us!
To celebrate the release of Insurgent on May 1st, we're hosting a 10 day countdown to its release.
Every day until the 1st we will have an Insurgent/Divergent event happening right here. There will be daily giveaway given to those who participate, so make sure you check back here every day and follow us on twitter so you don't miss anything!
The first event is all about spreading the Divergent love. All you have to do is use the hashtag #DivergentLoveDay on twitter, tumblr, facebook, or your blog. Use it to tell the world what you love about Divergent, Veronica Roth, or what you're looking forward to in Insurgent. Get your friends involved, and spread the love for these books.
Once you've used the hashtag, come back here and leave a comment with the link to where you used it. Then click on the #TeamAmity image below. That's all you have to do to enter today's drawing!
We can't wait to see what you come up with, use #DivergentLoveDay all day long! We want to see lots of love going on!
Support #TeamAmity by clicking the image below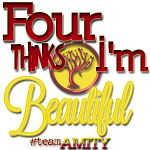 Tags: #DivergentLoveDay, Divergent, Divergent Devotion, Insurgent, Team Amity