Official Titles And Release Dates For The Upcoming "Four" Short Stories
Earlier this week we brought you the breaking news about the "Four" upcoming short stories that will start releasing later this year. Thanks to Amazon France we had an idea of when they would be released and what they would be called, but now we've got official confirmation.
Here they are:
The Transfer– September 2013

The Initiate– December 2013

The Son– January 2014

The Traitor– February 2014

Four: A Divergent Story Collection– February 2014
HarperCollins also made the following announcement on the official Divergent Facebook page: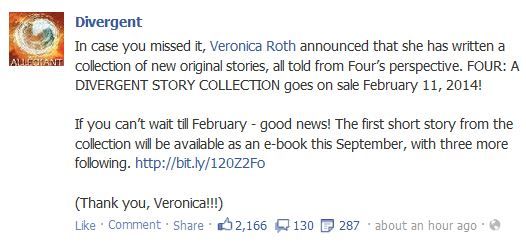 So there they are, our "Four" short stories AND a full collection! So much to look forward too, right?
Tags: Four, Four: A Divergent Story Collection, HarperCollins, The Initiate, The Son, The Traitor, The Transfer, Veronica Roth