New Choosing Ceremony Game on Facebook!
If you're biting your nails & twiddling your thumbs while you wait for the release of Insurgent, The Official Divergent Facebook page has something new for you to do while you wait!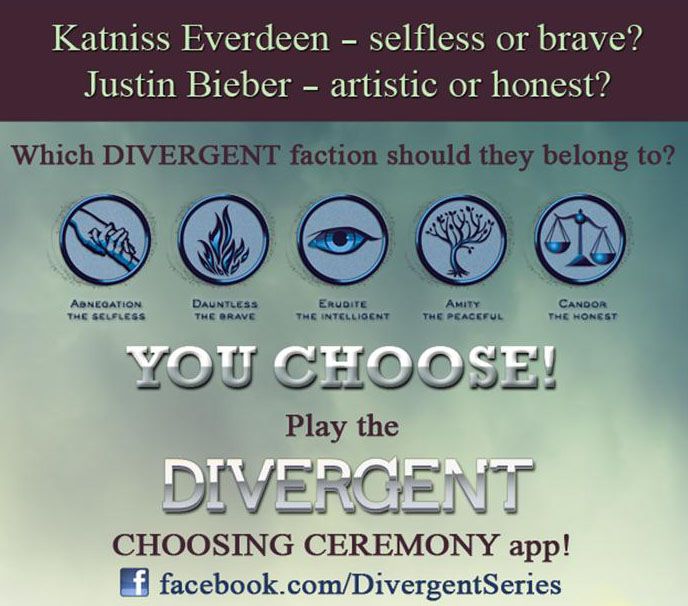 It's just like being in your very own Choosing Ceremony!
Here's what it looks like when you start playing: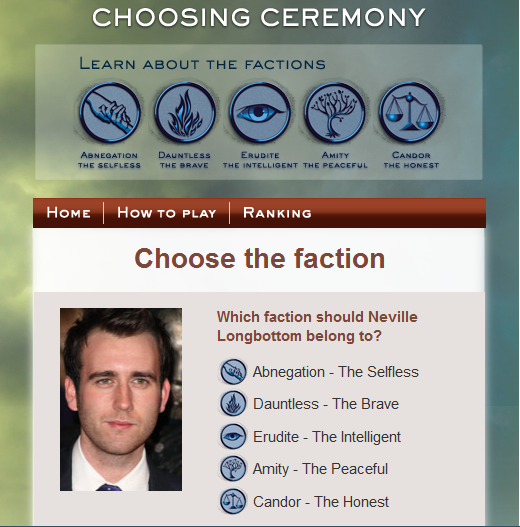 (In case you're wondering, yes, I chose to put Neville here on purpose!)
If you haven't checked it out already, here's how you play:
To compete for Faction Leader, first select the faction you'll represent. Not sure? Take the aptitude test!
Choose factions for famous personalities by clicking the faction symbol to the right of their picture.
To learn more about each faction, click on the symbols at the top of the page.
You can also choose factions for friends, and earn points toward becoming your faction's leader! Click the link in the lower right corner that says, "Skip celebs, choose factions for friends."
Each time you choose a faction for your friend, you will earn 5 points, and your friend will get a post on their Facebook wall.
If your friend clicks on this post and joins the Choosing Ceremony, you will earn 10 more points!
Each week, the person with the most points in each faction will be named that faction's leader. Check back to the "View Ranking" page to see if you've won and post your faction badge to the wall!
Click here, or the images above, to start playing!
Click here to read what Veronica Roth has to say about it!
After you've played come back here and let us know in the comments what you think!
We definitely think we have some Faction leaders amongst our readers!
Tags: Choosing Ceremony, Choosing Ceremony Game, Divergent, Divergent News, Facebook, Game, Trilogy News