New Blog Post From Veronica Roth: Your Guide to Remembering Stuff Before You Read Insurgent
We've got information galore here on the Lexicon, but nothing beats it coming straight from the source.
Veronica Roth posted a Divergent recap today that will catch you up just in time for the release of Insurgent!
Here's part of what she had to say:
I made an "artistic decision" in Insurgent not to do a lot of recapping (that device used in sequels to remind readers of what happened in the first book). Recapping is not a bad thing– it is very useful, and often necessary–but I felt that it would bog down Tris's narrative and would sound unnatural in her voice.

As with any "artistic decision," there will be consequences, which is that not everyone has a superhuman memory and/or the time to reread Divergent before reading Insurgent. Early readers of Insurgent have understandably had some trouble recalling all the necessary information to really be situated in the world of Insurgent. In order to help with this horrible thing I have done to you, I wrote this GIANT post to remind you of all the characters in Divergent, how you know them, and what happened at the end of Divergent.
To read the summary, spoilers and all, click here!
Support #TeamAmity by clicking the image below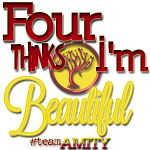 `
Don't forget to enter our Insurgent ARC giveaway here.
Tags: Divergent, Divergent Recap, Insurgent, Insurgent Release, Veronica Roth, Veronica Roth Blog