Divergent Devotion: 7 Days Until Insurgent!
We hope that Divergent Devotion is helping you pass the time while you wait for #Insurgent! Thinking up fun ways to celebrate is definitely helping us get through these last few days.
Today's task is all about creativity! Even if you don't consider yourself a "creative" person, we think you're going to enjoy this one.
#TeamAmity member, All Things Urban Fantasy is hosting an Insurgent Cover Re-Create Contest! The winner will receive a Dystopian YA Prize Pack, by choosing three of the following titles:
There will also be a runner-up. If you already own all of these books, additional YA Dystopian titles can be substituted. Get more information here.
So, what do you have to do to enter? Just use your imagination and re-create the cover of Insurgent. We want you to be creative, you can make it any way you want, using any artistic medium. We already love the cover, but #TeamAmity is all about the arts and we want to see what you can come up with!
Once you've created your cover, upload it online (tumblr, your blog, etc.) and then head over to this post and leave a comment with the link.
To enter todays' daily drawing for Divergent Devotion, here's what you have to do. If you have an entry for the cover re-create contest, leave a link to it in the comments below. If not, visit this Pinterest board and check out all of the current entries. Come back here and tell us your favorite. Either one of these will enter you into today's drawing.
Don't forget to enter our giveaway for an Insurgent ARC here.
7 more days and counting…
Support #TeamAmity by clicking the image below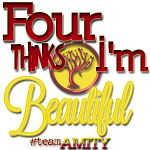 Tags: Cover Re-create, Divergent, Divergent Devotion, Giveaway, Insurgent