Divergent Devotion: 6 Days Until Divergent
We are officially less than a week from the release of Insurgent! Can you believe it?
Thank you to everyone who completed yesterday's Divergent Devotion task. The winner (selected by random.org) is Linda @ Fiction Ferver! Congrats! Email your address to [email protected] and I'll get your Divergent goodies sent out soon.
Today's task is an easy one. To enter the daily drawing all you have to do is click on the #TeamAmity graphic below and then leave a comment with your favorite Divergent or Insurgent quote! Have more than one favorite? You can leave 2 comments, each containing a different line. Even better than that? Today's task will have two winners! Each winner will receive a pack of Divergent/Insurgent themed goodies!
To get you started, I'll end this post with two of my favorite lines.
From Divergent Chapter 25
"Why is your heart racing, Tris?" -Four
From Insurgent Chapter 5 (*Spoiler*)
"Nothing else is alright." His whisper tickles my cheek. "But we are." – Four
We can't wait to hear all of your favorites!
Support #TeamAmity by clicking the image below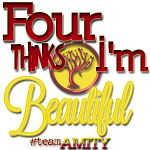 Don't forget to enter our Insurgent ARC giveaway here.
Tags: Divergent, Divergent Devotion, Favorite Quotes, Four, Insurgent, Tris