Chat With Veronica Roth & Other Release Week Events
We already told you about the release week event happening in New York, Cincinnati, & Chicago in this post. But today we learned about another event that everyone should be able to participate in.
On Insurgent release day, 05/01/2012, Veronica Roth will be doing a live chat on twitter. To participate all you have to do is be on twitter starting at 4pm EST and use the hashtag #DivergentNation. If you follow that hashtag, you'll be able to participate and see the entire chat!
Here are some people you should follow before Tuesday:
We'll definitely be there, will you? Let us know your twitter name so we can look for you!
Support #TeamAmity by clicking the image below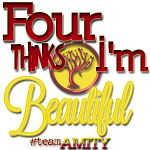 `
Don't forget to enter our Insurgent ARC giveaway here.
Tags: Insurgent, Insurgent Release, Release Day Chat, Release Week Events, Veronica Roth