BEA Wrap-Up & A Giveaway!
Enough sleep has finally been had and I feel like I can now properly summarize our trip to NYC without sounding like a sleep deprived crazy!
Book Expo America (BEA) was an amazing experience. We were surrounded by so many books and book lovers it was impossible for it not to be absolutely thrilling (and exhausting!)
Here are some of the best (and worst) parts of our trip:
Top BEA Happenings

Books, Book, Books, Books! So many books! We picked up so many we've been wanting, and some that we're excited to try out! Let us know if you need any book recommendations, we're always happy to share!

The people. We met so many awesome people, and even got to see some of our #TeamAmity bloggers in person! It was amazing to be surround by so many people with a passion for books and reading and we definitely enjoyed chatting with everyone.

The authors! We were able to get so many of the books we picked up signed, both by authors that we've known and loved, and debut authors that we were thrilled to meet. We had great chats with Emily White (Elemental), Kody Keplinger (The Duff), Cara Lynn Shultz (Spellbound), S.J. Kincaid (Insignia), and so many others. We won't make you read the entire list of all the authors we met, but each one of those experiences was ridiculously fun.

Getting the "Lexiconed" version of Divergent signed by Veronica Roth was beyond incredible. It's the book that started it all and was definitely a labor of love. I'm even more proud to have it on my bookshelf now!

Getting to finally squeeze each other was definitely one of the best parts of the trip. After 3 years of talking every day, we finally got to see each other as a "real people" and not as computer images. Leaving at the end of the trip was difficult, but we've already got plans to meet up in a few months!  (And of course books will be involved again!)

Chatting with Veronica Roth, Molly O'Neill, Katherine Tegen, Joel Tippie, & Alison Lisnow (while trying to control our squeees) was without a doubt the highlight of the trip. We were lucky enough to receive an invitation to a celebration of Katherine Tegen books at her house in NY. We can't thank those involved enough for involving us. We were beyond honored for the opportunity and had an amazing time.  There were lots of giggles, yummy cupcakes, and even though we got a little lost on the way home, we definitely hope to repeat the experience soon.

Worst BEA Moments (And next year's strategy to fix them!)

Lack of sleep. Next year we will be there earlier and stay later. We started off with only 2.5 hours of sleep and it didn't get better from there. We're pretty sure starting with a full nights sleep would make a huge difference!

So much to do, so little time! There were so many events we wanted to attend, people we wanted to see, and tourist-y things we wanted to do and we didn't have enough time to do most of it. Next year we'll give ourselves more time to do all the things.

The aches, pains, & bruises that we found each night before bed are almost indescribable. Who knew that a Book Expo could be so brutal! The Javits center is without a doubt a cruel & abusive place. And yet, we can't wait to do it all again next year!

It's not directly BEA related, but on the way back to our hotel on the second day we had a near death experience that will not soon be forgotten. One of our cab drivers tried to kill us not once, not twice, but THREE times. Next year, we're walking. (Yeah right!)

We had list after list of all the books we wanted, some that we knew would be there and others that we just hoped we could get. At the top of all of those lists was If I Lie by Corrine Jackson. Sadly, we were unable to get our hands on a copy. There will be copies available at ALA next week so if any of you are there and want to pick-up a copy and send it our way, we'd be eternally in your debt.
Now that you've heard all about our trip, we have some good news for you! We did not leave NYC without something for you guys! So here it is. We are giving away copies of Divergent and Insurgent signed by Veronica Roth!
To enter all you have to do is fill out the form below. The contest will be open for two weeks and you'll have chances to win every day. (Yes, this one is international!) Stay tuned to twitter and facebook for opportunities to earn extra entries!
Here are some more of our trip pictures: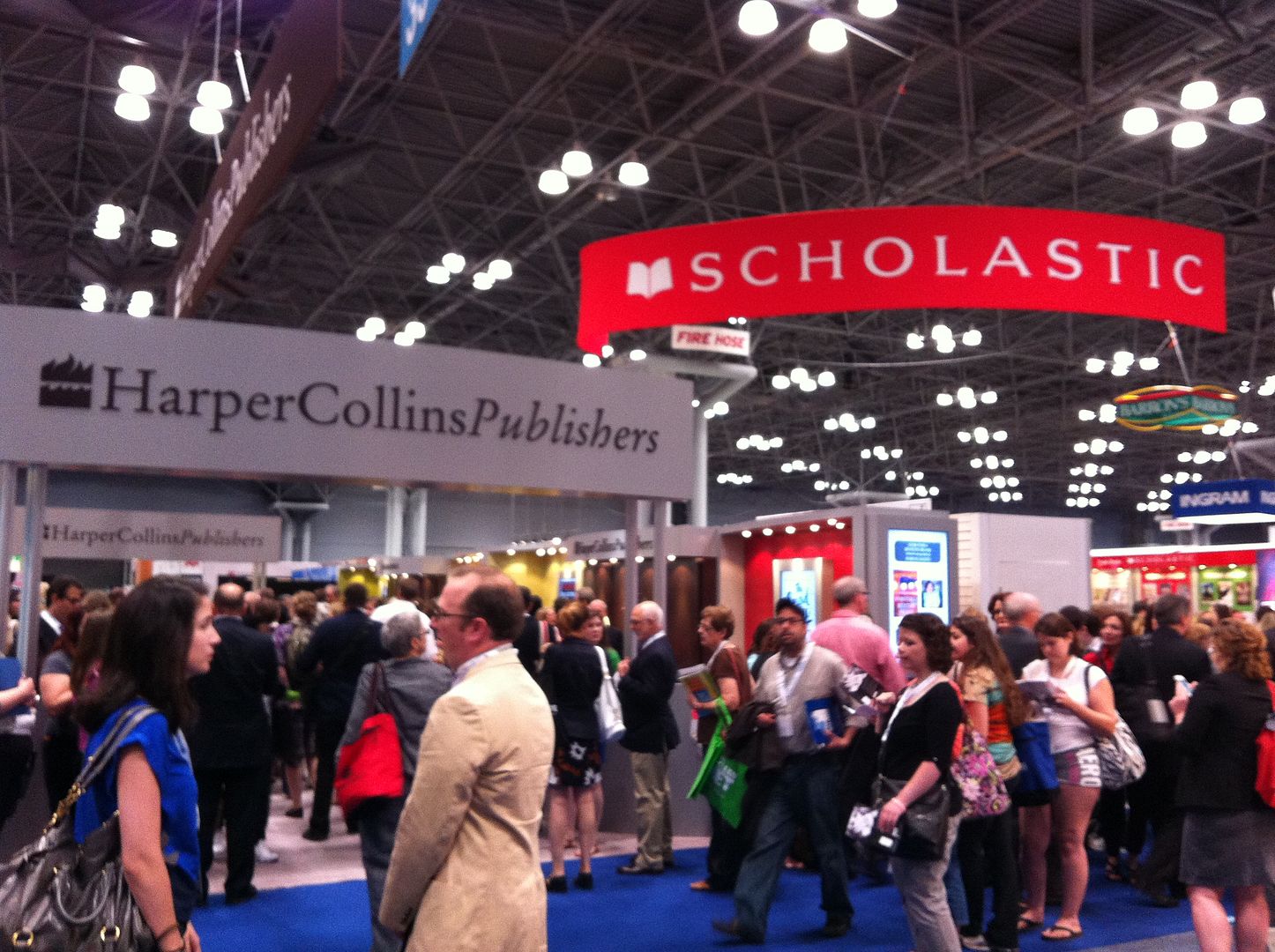 This is how most of the BEA floor looked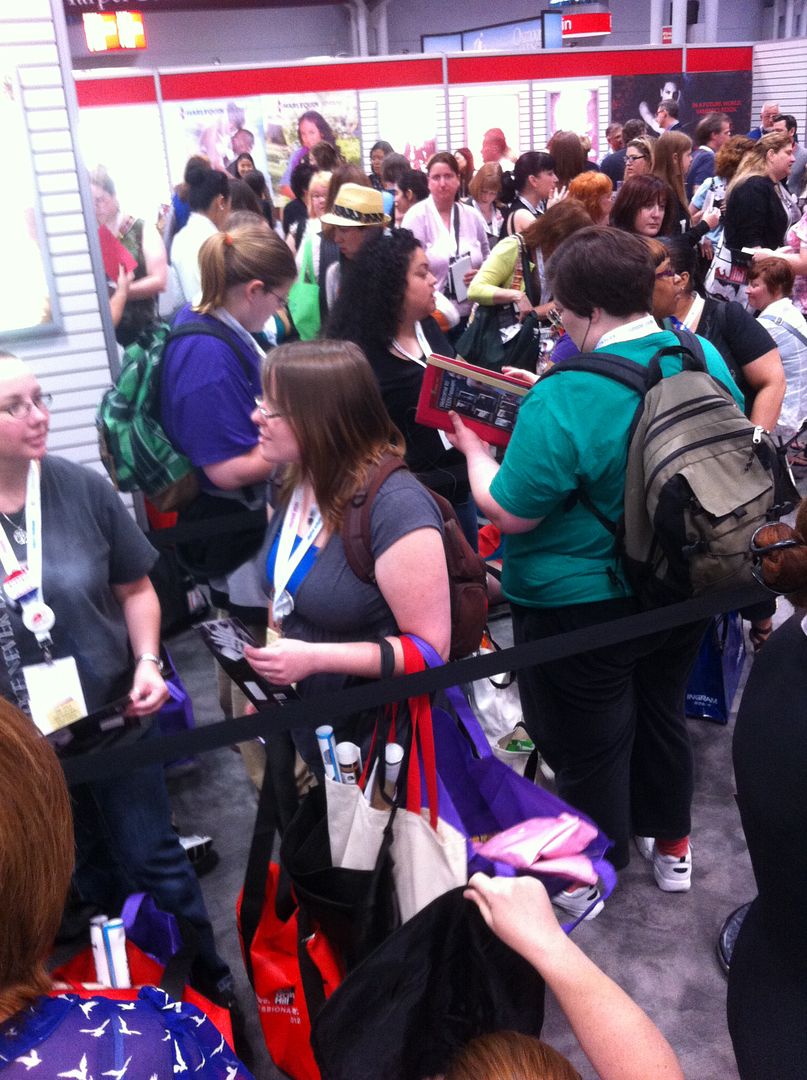 This is what some of the lines we waited in looked like!

Here is Veronica Roth (and the Dark Days crew!) signing!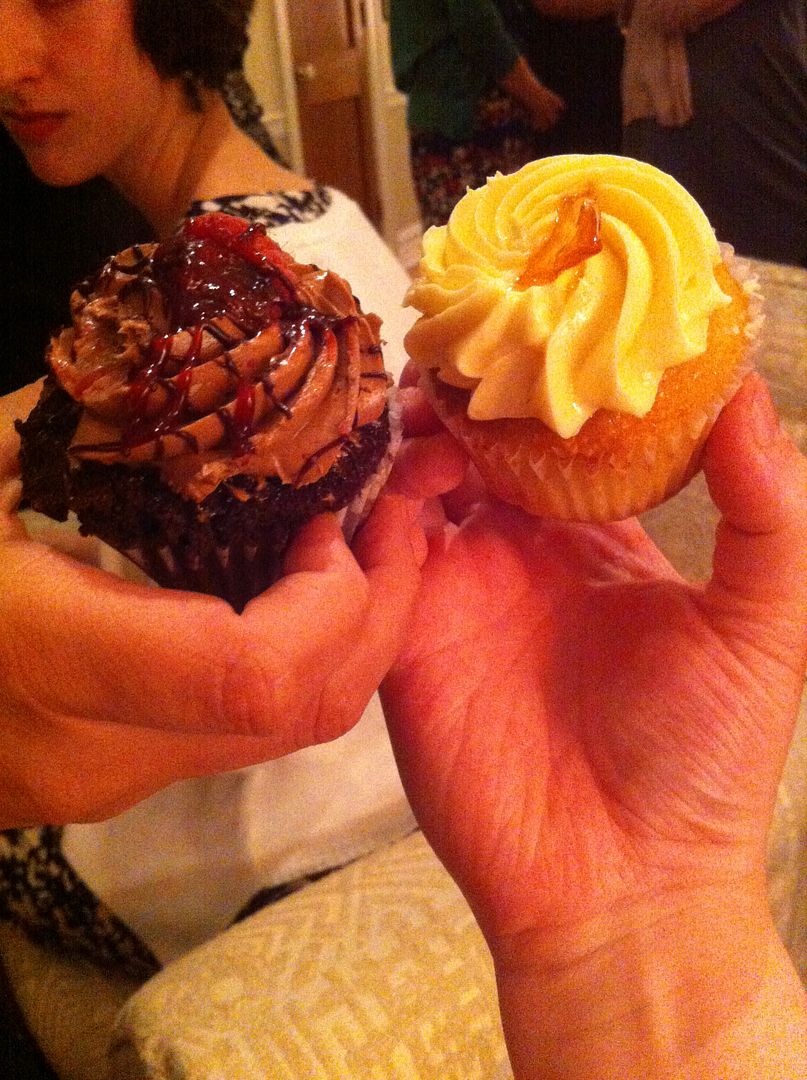 These were our yummy cupcakes from the Katherine Tegen party!
Tags: BEA 2012, Book Expo America, Divergent, Giveaway, Insurgent, Katherine Tegen, Molly O'Neill, Veronica Roth