All It Takes Insurgent Benefit Screening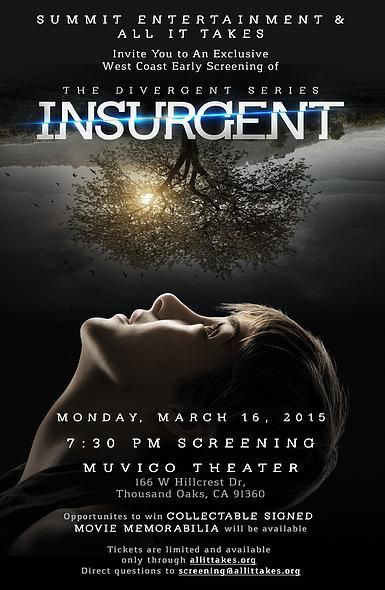 West coast Initiates, we've got great news for you! All It Takes is having a benefit screening for The Divergent Series: Insurgent on Monday March 16, 2015! The best part is, you're invited to attend!
You'll get to see the movie before it releases and you'll be giving back to an amazing charity. We participated in this screening last year and had an amazing time! Check out the details below.
All It Takes mission: All it Takes is a non-profit organization that empowers individual action creating a movement for a sustainable positive change both locally and globally.  By focusing on youth leadership and individual action we provide tools, opportunities and education launching momentum for change. 
Get the Divergent VIP Ticket Package for $150 which includes:
First look at Insurgent for one
Exclusive luxury seating
Cocktail service during the show
Collectable cast signed book
Hot and fresh movie popcorn
Or get the Factionless Deluxe Ticket Package for $75 which includes:
First look at Insurgent for one
Raffle ticket for collectible cast signed book or movie poster
Hot and fresh movie popcorn
Visit All It Takes for more information and let us know if you'll be attending the All It Takes screening for Insurgent in the comments below!

Tags: Advanced Screening, All It Takes, Insurgent, Insurgent Movie News, Insurgent Screening, Movie News