9 Days Til' Insurgent Event & Yesterday's Winner!
Only 9 more days until Insurgent, & today is giveaway day!
First off, thank you so much to everyone who participated in #DivergentLoveDay yesterday! We had so much fun reading your posts & tweets, and can't wait to do it again.
We used random.org to draw a winner, and the number drawn was 3!

Congrats to Lena Marsteller! Email your address to [email protected] & we'll get your prize in the mail!
If you didn't win, don't worry! Today's event gives you even more opportunities to win. It's all about giveaways.
#TeamAmity is full of generous Divergent loving ladies, and they are giving away some awesome prizes. Here is the list of giveaways going on right now:
To enter today's drawing all you have to do is click on the links above and enter the giveaways. If you enter them all, come back here click the #TeamAmity image below and then leave a comment letting us know you completed today's task!
9 days and counting…
Support #TeamAmity by clicking the image below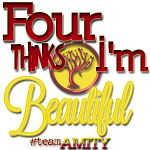 Tags: #DivergentLoveDay, Divergent, Divergent Devotion, Giveaway, GIveaway Day, Insurgent, Winner