Veronica Roth Interview: Five in Five with Veronica Roth
Kerry O'Malley Cerra from Whatcha' Reading Now?, did a Five in Five Interview with Veronica Roth.
Here's how it all went down:
1. Whatcha' Reading Now?

V: I just finished XVI by Julia Karr, and I'm about to start When We Get There by Shauna Seliy. And after that, I'll be reading The Fault In Our Stars by John Green.

2. If you could transport back to any decade for six months, where would you like to land?

V: Do I have to go back? I'd love to go forward instead. To 2500, or something. Assuming we're still around by then. I love history but it's something I can already know about, albeit incompletely– the future, however, is uncertain and full of possibilities, so I'm more interested in seeing that.

K: Very cool! I'm not sure I'd be brave enough. Hmmm, you've got me thinking.

3. For a night out, would you rather go to dinner and a movie or head to the circus?

V: Dinner and a movie. Because, you know. Clowns.

K: Ha, ha. I never had a clown phobia, but man, my kids sure do.

4. Mac 'n cheese or a gourmet meal?

V: Gourmet meal! I mean, mac 'n cheese is great every so often, but I would always choose a fancy dinner. You're talking to the girl who loves brussel sprouts, here. But wait! What about…gourmet mac 'n cheese? Best of both worlds.

K: Oh, wait, maybe you should make some gourmet mac 'n cheese with brussel sprouts in it. Let us know how that turns out if you try it.

5. Can you tell us one random thing about yourself?

V: I participated in congressional debate in high school. For those who are unfamiliar with it, it's basically mock congress– a bunch of kids dressed up in professional clothes debating fake bills. A little nerdy, yes (okay, it's really nerdy), but it's also extemporaneous, so it taught me to think on my feet. I still wasn't very good at it, though.

K: Love this. Nerdy bits and all!

**Bonus: If you could tag another author for a future Five in Five, who would you pick?

Debra Driza. And I'd want you to ask her what her favorite 80s song is, because I'm pretty sure it's something by Wham!, and she knows all. The. Words.
It seems with every interview, we love Veronica Roth just a little more. Do you agree?
Support #TeamAmity by clicking the image below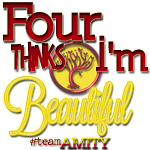 Tags: Veronica Roth, Veronica Roth Interview, Veronica Roth News, Whatcha' Reading Now