New Veronica Roth Blog Post: Insurgent Hardcover Sneak Peek (Also: "Author Gets a Little Emotional")
This morning, Veronica Roth received a very special package in the mail and was generous enough to share it with all of us.
Here is what she had to say:
I got a package today. As is always the case when my editor sends me packages, I stumbled downstairs without shoes on, in my pajamas, with my hair piled on one side of my head, and gave the UPS guy a don't say a word about my pajama pants look. Is this because I just woke up? No. I woke up two hours ago. Does that mean I am dressed and ready to go? Absolutely not. Who do you think you're talking to, a responsible adult?

I saw the box, and I knew. I KNEW that it contained an Insurgent hardcover. (Before you ask: I only get the book early because I wrote it. IT'S ONLY FAIR.) And I thought, okay, NBD, I'll just rip open the box now. This proved to be more difficult than you might think, because that box had an impenetrable layer of packing tape around the outside. It was like the box was dystopian Chicago and the tape was a giant fence around it. That sounds familiar…
And then she gave us a sneak peak with these pictures:
And then there they were: the hardcover and the International paperback:
There are two books!:
The back cover copy:
The naked book:
And the epigraph (quote that comes before the book starts):

That's a little blurry, so let me tell you what it says:

Like a wild animal, the truth is too powerful to remain caged. 

— From the Candor faction manifesto.
That would have been enough of a surprise, but then Veronica does one of the things she does best. She let us into her world and mind for just a little while.
Here's part of what she had to say:
So this is why I constantly weird out my agent and my editor when they call me with Big, Good News, and I'm like "Wow, that's great!" like they just told me that it's unseasonably warm outside, or that they got me a coupon to DSW or something. What they don't know is that at other times, like when I'm writing the acknowledgments, or looking at the ISBN number, I just break down into happy tears at my desk. Or when I see the book in a Romanian grocery store when I just went in to buy some cheese and paper towels, I freak the hell out and take a picture with my phone camera.

These are the moments when my brain decides to say, "Oh hi. This is not, contrary to what I have persuaded you to believe, normal."

One of those moments was this morning, not as I was looking at the cover or the back or the naked book, but when I saw the page that says: Also by Veronica Roth: Divergent.

Writing one book can feel sort of like an accident, like you just got lucky and it might not happen again. But if you've written two, suddenly an author is what you are. Seeing this meant realizing that throughout my life, I will be writing books, and sometimes, if they are good enough, someone will want to publish them. I am, as I've said before, blessed beyond comprehension that this is my normal, my job.
To read the entire post, click here. (YOU WANT TO READ THIS!)
So what do you think?
What are you doing to pass the time until May 1st when you can get your hands on one of these?
Click this image to support #TeamAmity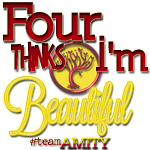 Tags: Hardcover Insurgent, Insurgent, Insurgent News, Teaser, Veronica Roth, Veronica Roth Blog, Veronica Roth News