New Blog Post From Veronica Roth: Five Factions, Five Days: Day One, DAUNTLESS
For the past month we've been asking for your support of #TeamAmity, and we couldn't be more thankful for all you've done. Starting today there are 5 days left in the promotion campaign and they are being called "Five Factions, Five Days."
In her newest post, Veronica Roth explained more about these last few days on her blog.
Here's part of what she had to say:
My publisher had the very cool idea of assigning factions to fifty book bloggers (ten for each faction), and distributing Insurgent ARCs to those bloggers only. Each faction of bloggers has been competing to get the most page views, and at the end, the winning faction will get a prize. They've also been recruiting anyone who feels they belong to their particular faction. It's been really fun to watch for the past few weeks, and I even got a Dauntless button and an Amity bracelet out of it (so cool!).

Since we're counting down the last five days until Insurgent comes out, for the next five days, each faction will be taking over the Divergent facebook page and sharing faction party tips, fashion tips, and other fun things. Today is DAUNTLESS DAY.
To read the rest of the most, click here.
Check back tomorrow as Veronica Roth & Harper Collins support our team! Go, TEAM AMITY!
Support #TeamAmity by clicking the image below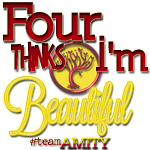 `
Don't forget to enter our Insurgent ARC giveaway here.
Tags: Amity, Blog Update, Dauntless, Five Days, Five Factions, Veronica Roth, Veronica Roth Blog