Join #TeamAmity!
"It's not just about banjos and apple-picking. It's about cultivating strong relationships and trying to understand each other. Oh, Amity." -Veronica Roth
Big things are happening in #DivergentNation land right now. If you haven't seen our posts or tweets, chances are you've seen it somewhere.
If you've been looking for a way to join in the fun and support Insurgent and Veronica Roth, look no further. The Divergent Lexicon  wants you to join us in our fight to bring #TeamAmity to a victory. We told you all about the challenge in this post, and told you who our teammates are in this post. Now, we want your help.
If you're feeling factionless, or even divergent. I'm here to persuade you to join Team Amity.
If you decide to choose Amity as your faction, here's what you'll receive:
The first 40 members to sign-up will receive a swag bag from one of the Team Amity members

Every member

will receive a "Four Thinks I'm Beautiful" bookmark

Every member

will receive a welcome email from their faction leader
Every member will receive the

Team Amity

"Four Thinks I'm Beautiful" graphics (shown at the bottom of the post)
For joining Team Amity you will also receive 5 extra entries in the

Team Amity Group Giveaway

, which starts next Monday, April 9th. (This giveaway is going to be amazing!)
Other bonuses & opportunities will be made available throughout the month!
So. What do you have to do to receive all the goodies above?
It's pretty simple:
Fill out the sign-up form
Post the graphic to your blog and/or as your twitter avi
Help us tweet/pimp this link: https://bitly.com/amityfaction
If you make a blog post about joining

Team Amity

, you will also receive

bonus

entries into the

Team Amity Group Giveaway.
That's it. Have fun with it, and if you have any ideas on how to promote our team, send me a message or a tweet and let me know! I'd love to hear your ideas.
Ready to join us? Click here to fill out the form!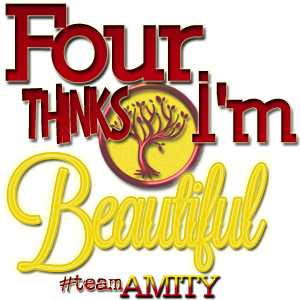 Tags: Divergent, Insurgent, Team Amity, Veronica Roth