Four, Four, & More Four With @YahooMovies!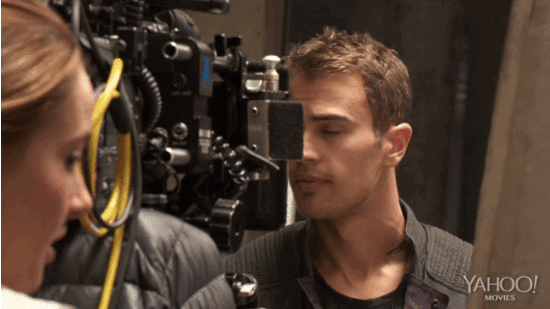 Yahoo! released a brand new Divergent featurette all about Four. It's got some behind the scenes clips, scenes from the movie, and interviews with the cast (Including Theo James!) and Neil Burger.

If excitement could be measured numerically, we'd need to start counting now to measure ours for the release of "Divergent" on March 21. But, then again, we can pretty much guarantee we'd get stuck once we reached four.

Four, in case you haven't heard, is one of the main characters of the bestselling novel series by Veronica Roth and is played by the undeniably handsome Theo James. In this exclusive featurette introducing them both, you can see why such a count might be distracting.

"Four is the perfect Dauntless warrior, but he also has his own secrets that he has to hide, so he's incredibly guarded and wary of anybody trying to get close to him," director Neil Burger explains.

What's not a secret is the chemistry between James and his co-star, Shailene Woodley. "Theo's reactions are amazing, his capability of listening is incredible, but he's also tough on screen and a really strong person," she gushes.

Oh, and did we mention he did all of his own fighting? Because he did. According to stunt coordinator Garrett Warren, the combat footage is "100 percent no stunt double."

There's one more thing you should know about Four. Or, rather, the Forth. On Tuesday, March 4, at 12 p.m. ET, advance tickets for "Divergent" go on sale. And – bonus! – moviegoers who purchase their ducats on Fandango or MovieTickets.com before the film's release will have the opportunity to be entered in a sweepstakes for the chance to win a walk-on role in the film's sequel, "Insurgent." And those who buy their tickets on Tuesday (and Tuesday only) will also receive a free download of Veronica Roth's original book.

"Divergent" opens everywhere on March 21.
Such a great look into Four! What was your favorite part?

Tags: Divergent, Divergent Movie, Divergent Movie News, Four, Movie News, Theo James, Theo James as Four, Theo James as Tobias Eaton, Tobias Eaton, Yahoo! Movies