#Divergent Weekend Wrap-Up (June 14th-16th 2013)
It's time for another "Weekend Wrap-up", and this one is filled with all kinds of goodies!
Here's what happened this weekend in Divergent News:
Our gifts to the cast were mentioned, not once, but twice in the Buzz Sugar Divergent Sneak Peek: The Cast Shares Behind-the-Scenes Pictures Post, which can be seen here! Meg made the bracelets that are seen in pictures from Amy Newbold and Christian Madsen.
A few lucky Divergent fans got to meet some of the cast and have their books signed! Here are couple of tweets from some of Initiates who got to meet Theo James: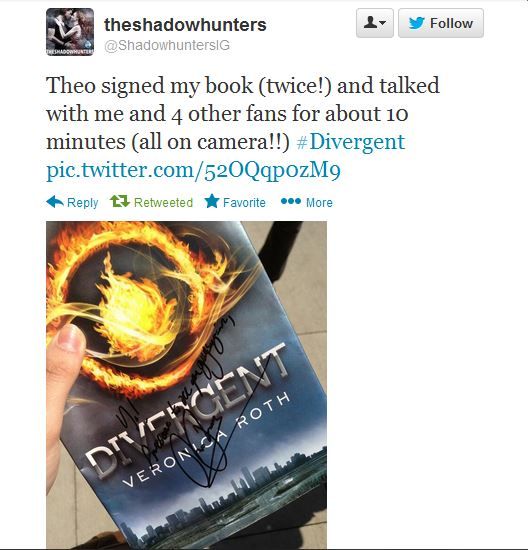 —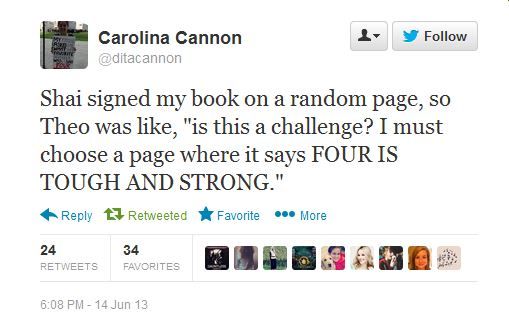 Canadian Fans can enter to win a Divergent set visit from HarperCollins Canada here!
Australian fans can enter to win a Divergent set visit from Hopscotch Entertainment One here!
You can also check out some of our recent posts here:
So many exciting things, right? What's your favorite Divergent happening from this week? Let us know in the comment below!
Tags: Al, Amy Newbold, Amy Newbold as Molly, Andrew Prior, Ansel Elgort, Ansel Elgort as Caleb, Ashley Judd, Ashley Judd as Natalie Prior, Buzz Sugar, Caleb Prior, Chicago, Christian Madsen, Christian Madsen as Al, Divergent Filming, Divergent Movie, Divergent Movie News, Divergent Set, Divergent Set Photos, Divergent Set Videos, Divergnet News, Eric, Father's Day, Four, Jai Courtney, Jai Courtney as Eric, Molly, Movie News, Natalie Prior, Sears Tower, Shailene Woodley, Shailene Woodley as Tris Prior, Theo James, Theo James as Four, Tony Goldwyn, Tony Goldwyn as Andrew Prior, Tris, Veronica Roth