Divergent Lexicon Takes on Comic Con (EXCLUSIVE)- Press Conference Part One
 In case you missed our tweets a few days, Divergent Lexicon had the incredible opportunity to not only attend Comic Con but to also attend Summit Entertainment's Divergent/Ender's Game press conference. I (Ashley) took on the press conference while our friend Charmaine hung with the fans in Hall H for the panel. Here's a quick recap of my whirlwind Divergent day plus our exclusive photos and transcription of the first half of the Divergent press conference. The first group consisted of: Zoe Kravitz, Ben Lloyd-Hughes, Ansel Elgort, Amy Newbold, Christian Madsen, Maggie Q, Ben Lamb, Mehki Phifer, and Miles Teller.
I arrived early, around 8:30am to the San Diego Convention Center so that I could pick up my one-day badge. By a little after 9:00am I had my badge in hand and ready to go all Dauntless on my fellow attendees just so I could get my hands on the Divergent swag at the Summit booth. Only problem? Exhibit hall doors didn't open until 9:30am. What's a fangirl to do?
Roam the exhibit hall lobby and evade Comic Con security not once but twice to avoid being sent outside with the crazy lines, that's what? With eight minutes to spare until the doors open and security yelling at everyone around me, I may have flipped my badge around and ducked into the nearby Starbucks. Despite hearing the security guards yelling at others around me who did the same, I stayed in line and ordered my coffee like I owned the place. I'm usually very Amity when it comes to orders and directions but I guess I was feeling  a little Dauntless. And it paid off…exhibit hall doors opened approximately 5 seconds prior to my name being called to pick up my drink.
Once inside, it was a mad dash to get to the Summit-Lionsgate booth but it was clear I wasn't the only one with that idea. After at least 30-45 minutes in various lines due to conflicting information, I walked away empty-handed. I did return to the booth a couple hours later with a friend and after waiting again we were able to get two Divergent iron-on patches of the Erudite faction symbol. Soon, it was time to head across the street to the Hilton Bayfront where all of the press things were housed. After getting checked in with our buddy Ryan, I was headed inside! I snagged a second row seat, luckily near a few of our friends from other sites.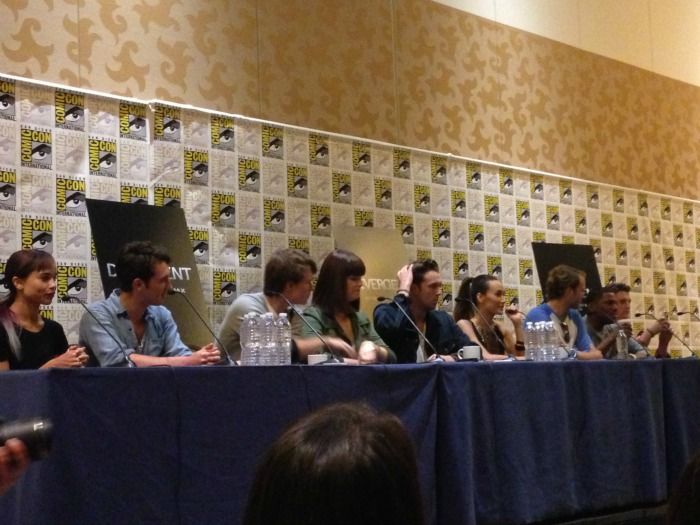 First up was Zoe Kravitz, Ben Lloyd-Hughes, Ansel Elgort, Amy Newbold, Christian Madsen, Maggie Q, Ben Lamb, Mehki Phifer, and Miles Teller. Although we weren't able to speak to any of the cast one on one, it was still wonderful to see these guys again, just two months after our Divergent set visit in Chicago (we still can't spill any details from that trip but as soon as we get the okay from Summit we will post ALL THE THINGS). I have to say the MVP of this group was definitely Miles Teller. If you've seen any interviews with him, you'll know why. Something tells me that guy was voted class clown in high school. We hope you enjoyed part one of our Divergent press conference experience! Check back tomorrow for part two aka Shailene, Theo,  Neil, and Veronica!
Talk a little bit about Neil Burger and what he brought to this and maybe individual experiences you had working with him.

Ben Lloyd-Hughes: I'll go first. Neil Burger… I loved his film Limitless. I went to go see it in the cinema and then I watched it again once I knew I had this job and I was so excited to work with him because I thought he was so right for the story and what he could bring to it which is his artistic style which you saw in Limitless and his unique vision with some of the shots and the way he told the story so that was great. His vibe on set was just totally chill. I think he has Hawaiian roots because he had such a laidback and calm aura and never really lost his uh, sense of calm and I really appreciated working with him.

Christian Madsen: He was so focused and you know there would be times that we'd be on set and kind of didn't know what to do and Neil was always there to guide us. And with Doug and Lucy, it was a pretty magical experience.

Miles Teller: And to add on to what Christian was saying…

Christian Madsen: Thank you Miles.

Miles Teller: You're welcome. No you know there are only a certain number of directors that can handle an 8 million dollar film, whatever the final number is I don't know. I forget…because they paid me so much. I think he built that up in Limitless, Limitless looked a lot bigger than whatever the budget was on it. Neil's got a great eye and he has really great cameramen and I'm really excited to see the world once it comes together.

Mehki Phifer: I concur. Neil is wonderful, definitely a visionary, a man who kind of knows what he wants. A man who allows you to bring your game to the table and create something magical. I like to call him the man of a thousand takes (cast laughs). The editors should have no problems. He's just a great guy. Kudos to Doug and Lucy, they were just the backbone of the production. I think we all had a great time and we all learned a lot and I'm looking forward to seeing the final product.

Ansel Elgort: I think as an actor you want a director that makes you feel comfortable with a place that you can really create and try different things and Neil always made me feel like a could try a scene in different ways, like he was always on my side.

Miles Teller: He touched me…emotionally

Maggie Q: I think to Neil's credit…there are a lot of us here, and not all of us are here…you have a lot of different actors at different levels with different voices and different this and different that. That's hard. There were moments when I actually feel bad for someone who has to deal with all of us. We all have our own ideas about what to do and all feel strongly about certain things and he was very kind and diplomatic in that process. And that can be very difficult, I'm sure he wanted to punch us all in the face at some point you know when we were trying to develop what we were doing and going back and forth and back and forth. That is the process and it can sometimes be painful but I think for someone to handle all of that coming at him the way that he did made me like him and respect him a lot.

Ben Lamb: I think when you do have a director with such a strong visual idea, often they aren't so necessarily interested in the acting side but I think what's quite unusual about Neil is that every single note that he gives will ameliorate your performance and it just gets better and better with every note that he gives.

We know that Hollywood can have somewhat small circles and you see some of the same people all the time. Have you talked with any of your colleagues who have also been a part of the literary franchise movies and what was there advice and if not, what would you want to ask them about getting into something like this?

Miles Teller: Yeah, I have a lot of friends, so…lots of people to ask. I have some buddies who were in the Twilight franchise and they said your life does change and I think Shailene is kind of realizing it for the first time that she, she just got done filming like a day or two ago, and it's big for all of us but for Shailene to be the face of this franchise and to come to Comic Con and see the big posters and see all the people here and see how big this thing could get. Obviously we have no idea, if it does go the way some of these other franchises have gone you are trading in a lot of your personal life and there's going to be people taking pictures of you and it does change so at the same time it's a trade off but I think we're all happy to be a part of Divergent and look back with good memories.

When it comes to approaching a literary franchise like this, what are some of your fears when approaching the characters and of course this has a huge fan base and of course you want to please the readers as well so how do you approach that?

Ben Lloyd-Hughes: With respect for their appreciation and love for the project. I think we all have unique characters that were loved for their own reasons so you know when I read the book it said that Will was blonde and I'm not blonde so that's something I had to get through with my own personal journey and hopefully the fans, because they are a passionate and amazing fanbase, they can watch the film and be happy with what's been done. I think everyone that was cast were picked for how right they were for the character and that I think that's the amazing thing that the producers and the director did was cast the right actor for the role and not just some cool actors that would be good to be in a film with and hopefully the character portrayals will come out in that.

This is for Miles, I got to see you and Shailene in The Spectacular Now at the LA Film Festival and how was taking what you did in that movie, which was so small, what did you take from your relationship there and bring to this film?

Miles Teller: Well really, this movie is just a continuation of our last movie and it's just you know you're in love one minute and the next minute you're out of love and you fall in and out, in and out of love so…No, Shailene's a great actress and I think that for your love interests there's only a certain number of actresses maybe that you get to work with and I'm lucky enough that it's been Shailene for two of these movies. I think she's one of the most talented actresses around and it's easy. I mean she's just very, she's very pretty and we're comfortable with each other and yeah man, I don't know…it's hard to talk about it. No, but she's great and I'm lucky.

Mehki, people obviously know you from ER…

Mehki Phifer: Yes, I've saved a lot of lives. Many lives have been saved on my watch baby.

So this is a total departure for you so what made you decide to kind of go into this genre of movie?

Mehki Phifer: Um, I wish it was as simple as me deciding, they decided for me but it's a great genre to be a part of. To have a film of this magnitude and this genre, I have a 14 year old son who has never been excited about anything I've ever done in the past except bringing home a check so he can go to Disneyland. He's really a fan of the book Divergent so he's really excited about that so that was one thing, one of the many things that helped motivate me to really be excited was that he was actually going to be excited about something that I did so he's part of that motivation.

Since this is obviously going to be a really big hit, are you guys signed on to do the sequel?

Ansel Elgort: I'm psyched, yeah. Also because we met all these awesome people like, I only worked with Kate Winslet for two days yet I really enjoyed both those days and I know in the sequel we get to do more work together. I'm really sad that my mom and my dad die in this because I really enjoyed working with Tony and Ashley (Zoe: Ohh, spoiler alert!) so that's too bad because I don't get to work with them anymore. I'm looking forward to working with Kate again.

Miles Teller: Not everyone on this panel lives…so that's a loaded question. But I'm excited (stretches).

How much did Veronica Roth inform each of you in some capacity about things because she has in her head the further stories that are going to go on?

Christian Madsen: You know I think it helped a lot having Veronica on set with us, we were able to stay as true to the book as we could. I think for any situation, to have the person that created the material kind of take that journey with you, it helps a lot. But also open to kind of finding our own way with the characters so she was very  helpful.

Ben Lloyd-Hughes: I think she was very respectful though, it was amazing that she was invited to be a part of it and not left out but she was also, in my interaction with her, very respectful of that fact that this was a film being made and she wasn't going to start giving notes or leaving things in our trailers about how she'd like to give us some notes separately…

Miles Teller: That was really nice…(cast laughs) Veronica came on set one day and we all met her for the first time and Ben Lloyd-Hughes goes back to his trailer at the end of the day and there was a balloon and a card in there and it said "Dearest Ben, it was such a pleasure meeting you. You're such a lovely young man, I would love to get a drink and talk further about your character. Love, Veronica" and a phone number. Well the phone number was my buddy's phone and Ben thought his character was coming back to life and I felt really bad because he was so excited. He was like "man Veronica really liked me and I think you know, maybe Will's going to have a spin-off" and then I felt bad for pranking him…

Zoe Kravitz: Wait a minute, YOU felt bad?

Miles Teller: I felt bad…

Zoe Kravitz: You did not feel bad! I felt bad…

Christian Madsen: Zoe ratted us out.

Miles Teller: Anyway, Veronica's just really great to have on set and it is, if you're going to pick anyone's brain about Divergent it's great that the author was on set because what happens often times that once a book is made into a movie, that author isn't really on set. You know, now it's our story but I think we were very open to having her along. I know I picked her brain as much as I could.

Could you give us a specific example?

Miles Teller: No I can't (laughs)

Zoe Kravitz: She didn't really do that…

Ben Lloyd-Hughes: You did ask her one question Miles, you asked her which was who did she regret killing off.

Miles Teller: Right. And she said your character so I was like now I have to put a balloon and a card in your room and make you think you were coming back to life.

Ben Lloyd-Hughes: Everyone should know that the girl sitting next to me, Zoe Kravitz, was the one with the conscience who finally revealed that it was a prank.

Miles Teller (and one other person?): Snitches…

Zoe Kravitz: But I got into trouble with that end of the table (gestures to Miles Teller)

This question is for Ansel, when you realized that you were going to be a part of not just one big movie adaptation, but two, what was the first thing that went through your mind?

Ansel Elgort: I was really excited because The Fault in Our Stars is a really good story and one of my favorite books I ever read. I loved working with Shai on Divergent and I was really excited to be able to do more projects with her. You know, it was a shame that I was only able to do this one thing because at this point she's probably the best actress I had ever worked with so I know we're both very excited about doing 'Fault'

What is it about Divergent that makes it important to tell this story?

Maggie Q: Amy, why don't you…

Amy Newbold: Wow. Something that's really awesome about Divergent is that it is about young people and gives importance to the decisions that they make. I think sometimes teenagers or young adults tend to get brushed to the side a little bit and not given the power that they actually do hold or not acknowledged for the power that they hold so I like that about the story. I think it's important because maybe we're not so far away from the world of Divergent. We tend to maybe compartmentalize people a little bit or make them one dimensional in our minds and they're just not. Yeah, I think it's kind of a beautiful thing that Veronica has created and an outlet to talk about those things.

You're all very young but was there a time where something happened in your life and you diverged into another area, something that changed your lives maybe?

Amy Newbold: This movie…

Ben Lloyd-Hughes: Yeah I think for me personally, I remember the decision I made as a young person to become an actor. It was something that when I read the story and when I read the script, I realized that in a way I had made a life-changing decision about my future and about what I wanted to be. I had a place at University and I didn't go to University, I went a different way on a completely different path. I think that's something that all young people do in some shape or form whether it's a big decision or little decision and I think that's why this story can be so powerful to so many people because we've all had those moments at some point.

Amy Newbold: I think it's cool too because for a lot of us, well for me at least, I was on a completely different path before I entered this film and got this part. Being in a cast with people who are younger and relatively new, it was cool to sort of be alongside them in having similar experiences. (pause, press asks Amy what she did before this) I was a nursing student and I was working at my church. But yeah, my story is not dissimilar to some of the people sitting at this table it's just a complete shift and a change in our lives because of this opportunity so that's been cool.

This question is for Maggie Q, you have experience with working on sci-fi/action movies, can you talk about this character and how she's different from Nikita or other roles that you've played?

Maggie Q: You know, I don't do any action in this film. Which is funny because Ansel, was it me and you? Somebody on the carpet was like "Maggie, we know you do action in this but Ansel did you get to do anything?" and I was like "actually I didn't get to do anything" so it was like the complete opposite. This was a nice sort of departure, I mean I'm sure there will be more action in the second one or whatever. It was funny because I actually didn't want to get into something that was action-heavy because you know, I spend ten months out of the year doing action and not because I don't love it but it's a box and you know, I'm climbing out of it but it's a little deep. When I read the script I was just like shocked and happy that it was straight drama and no action and none of that having to do with what the character sort of encompassed, right. There's a strength to her and there's a toughness to her but it's something very internally and she's very much a product of her circumstance so that survivor thing comes out and you see it. You know I hope we gear up for the second but it was funny because I was training to do this film for the look of it because I wanted Tori to look like sort of a muscle-y badass. It's so vain and weird for me to train to look a certain way because you know I only trained for a result, to be good at something. But I've never trained to look a certain way, it was really odd. But yeah, it's been a nice departure for me and I'm actually really thrilled for the opportunity.

Miles Teller: I only train to look good.

Maggie Q: What happened?

Miles Teller: BURN. Burn, Maggie Q. I let myself go, I'll be honest with you, I let myself go after this movie. Core is overrated.

Movies are not only getting bigger these days, but so are casts.  As an actor, you want to balance being part of a group, creating a world but also standing out obviously. So how are you doing that in Divergent?

Miles Teller: It's rare to be in such a big group and you look down here and it's a lot of guys all about the same age and all your characters have their own storyline but at the same time, for a lot of this stuff, we're a part of this initiation. We're a part of this Dauntless training program. So that was kind of cool, it really reminded me of high school theater when you're all the same age, you're playing dads, moms, this and that but you kind of have that ensemble feel. If you're that guy at that age, you're kind of the only one but for this we all kind of went up and started training together, sweating together, and it was a lot of fun.

Ben Lamb: I think also, the characters are so well defined that in fact you're not thinking about how you're going to stand out, you're thinking about how you're going to play your character to the best of your ability. You can only do that with really good writing which I think that this is.
Tags: Comic Con. Press Conference, Divergent, Movies, Photos, San Diego, Summit Entertainment, Veronica Roth