#Divergent Fan Event & European Premiere Official Info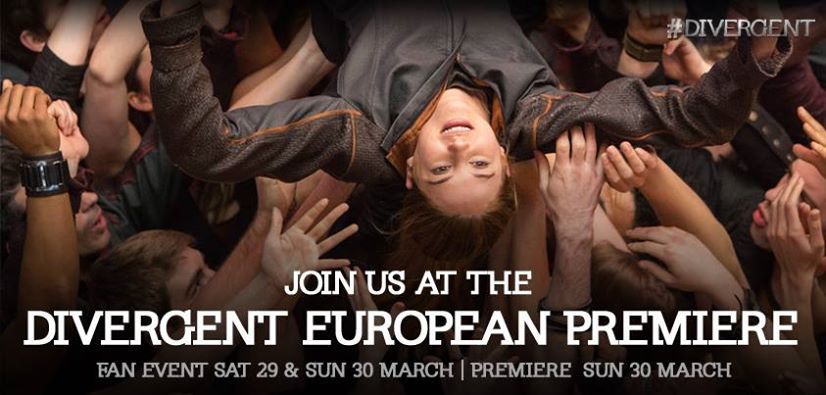 We've been sharing all the opportunities to win tickets to the European Dirvergent Premiere on twitter (@DivergentNation), but we wanted to make sure that you see all of the event information. Here is the official info:

On Saturday March 29th and Sunday March 30th Leicester Square will be transformed into the dystopian world of DIVERGENT, where fans will be invited to undergo initiation tests and, like Tris Prior, choose where they belong. Would you survive in Dauntless? Fans will be put through their paces with Dauntless training to see if you are brave enough to join their faction!

But that's not all – On the Sunday at 1.30pm the European premiere of DIVERGENT will also take place, at Odeon Leicester Square. The premiere will be attended by stars of the film Shailene Woodley, Theo James and Kate Winslet. As a thank you to the fans who have supported the film, we will be giving away a number of tickets to the European premiere, competitions will run over the next week. Keep checking our official Facebook & Twitter for opportunities to win.

The Divergent Fan Experience Timings

Saturday March 29th

11.00am – 6.00pm

Sunday March 30th

11.00am – 12.00pm

3.00pm – 6.00pm

Admittance to the Fan Experience event will be on a first come, first served basis.

Premiere timings

Sunday March 30th

Doors open – 1.30pm

Doors close – 2.30pm

Film starts 3.00pm
Will you be attending? Let us know and we'll make sure we follow you on twitter and give someone a chance to write about their experience on the DivLex.

Tags: Divergent, Divergent Movie, Divergent Movie News, Divergent Premiere, European Premiere, Movie News