@ChicagoTribune Article: Veronica Roth the next literary superstar?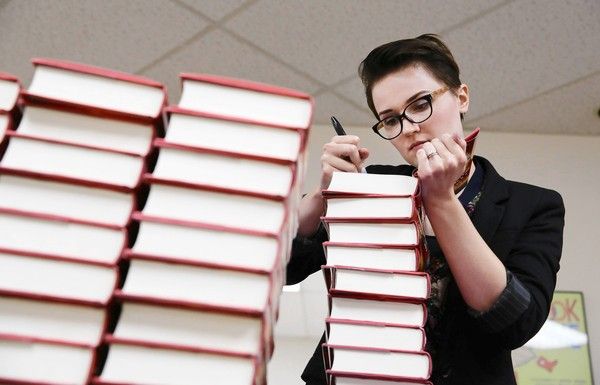 The title of this weeks Chicago Tribune article about Veronica Roth was titled: Veronica Roth the next literary superstar? We already know the answer to their question is a giant YES! But we loved everything about this article.
Here are a few of our favorite parts:
"I've been feeling really weird," she said, watching commuter traffic crawl west along I-88, sipping at her cup. "There are all these people who are going to read 'Allegiant,' right? And they expect something of me. They will want this series to end well. They have high expectations. Yet I have this feeling of impending doom. Or is it —" she raised an eyebrow — "impending awesome? There are a million copies of this book going out!"
"Having her as a friend of this store is like having J.K. Rowling in your corner." Said Katherine Tegen, whose eponymous imprint at HarperCollins signed Roth in 2010: "I have such a strong gut feeling about Veronica. I mean, I was one of those people who could have (published) Harry Potter but management wouldn't let me spend large sums on it. And I've been haunted by that — until 'Divergent.'"
Last April, Roth and her husband, Chicago photographer Nelson Fitch — with her agent, Joanna Volpe, in tow — were gassing their 1994 Mercedes on the way to the West Side set of "Divergent" when Roth became very anxious. The film rights sold in 2010, soon after the book rights, and Roth didn't want anything to do with the creative end of the film, not the screenplay and not the casting. She said she's a writer, not a filmmaker. And yet, here was a film based on writing she did at Northwestern. Still, brand-wise, it doesn't always matter if the author had anything to do with adapting the material — failure and success reflect equally. She should at least visit the set.

When she arrived, there was a director's chair with her name on it. As she looked across the set — a giant fighting arena with white squares on the floor matched by white overhead lights — she became misty-eyed.

"It's like walking into my brain," she marveled.

Theo James — the actor playing Four, the love interest to Woodley's Tris, the series' brave, questioning heroine — burst past them, dressed in full costume. Roth and Volpe looked at each other: He's totally Four.
Nevertheless, if you're a young adult, or have a young adult at home, you know: Dystopias are hot. Roth, who said she had not read "The Hunger Games" until after she had written "Divergent," was a longtime fantasy-sci-fi reader and fan of Lois Lowry, whose 1993 novel "The Giver" has become a contemporary dystopian classic. "The funny thing is, when I met Veronica, 'paranormal romances' were buzzy in YA," said Volpe, who said that she pitched "Divergent" to publishers as a "futuristic thriller" because "sci-fi" was not selling at the time and "The Hunger Games" had not yet made "dystopia" the hot, fashionable genre. Molly O'Neill, then a new editor at Tegen (with a marketing background), took the bait: "Everyone would compare it to 'Hunger Games,' we were aware, yes. It would be regarded by some as a read-alike. But really we were reacting to the story. I was pitched on a Thursday night, started reading it on the subway home. Two stops later I had goose bumps. By the time my train reached Brooklyn, I was texting to cancel my dinner plans."
We honestly could quote the entire thing, Initiates. You don't want to miss this one. To read the full article, CLICK HERE. Then let us know what your favorite parts were in the comments below!
Tags: Allegiant, Chicago Tribune, Veronica Roth