Check Out @VanityFair's Sneak Peak of #ShaileneWoodley's July Cover Story + A Behind-The-Scenes Video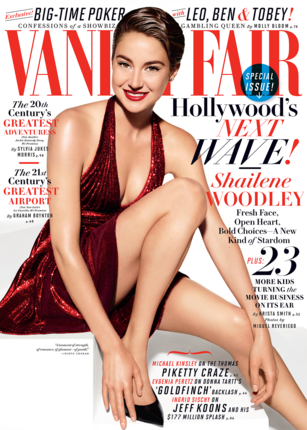 Vanity Fair is featuring a gorgeous Shai dressed in sparkly red on the cover of their July issue! They released a sneak peek of their article along with a behind the scenes video of her cover shoot that you don't want to miss! (Could she be any cuter??) Check it all out here:
Shailene Woodley tells Vanity Fair senior West Coast editor Krista Smith she nearly quit acting after her supporting role in The Descendants earned her laurels from Hollywood and sudden success. "Somebody came to me and said, 'I can't wait to see what you do next.' I took that as pressure—that I had to live up to somebody else's expectations," she recalls. "There were a few months where I was like, 'I don't want to act anymore.' And then I got over it and realized it's none of my business what other people think of me."

The headstrong young actress adds that George Clooney, her co-star in The Descendants, has helped reaffirm her beliefs amid the distractions of Hollywood. "He has been an angel in my life for many reasons," she tells Smith. "He knew everyone's name on set," she says. "He treated everyone as an equal and everyone got his warmth."

For Clooney, the adulation is mutual. "Shailene can do whatever she wants," the actor tells Smith. "If she wants to be a movie star, she has it. If she wants to change the world, she will. Her talent and kindness go hand in hand."

Though Woodley has a reputation as an actress with a conscience, she tells Smith she realizes that not everyone wants to hear about it. "As much as this industry is a platform for talking about big issues, there's also so many fuckin' issues. You could talk about Russia, or Argentina, or fracking, or G.M.O.'s. Maybe the only thing that I'm supposed to do is just show up and be me in every moment. Because I do feel like one of my gifts is to be open and lovely—simple things like smiling at strangers and having kind, small interactions. I think that is what's going to ultimately shift things."

Her refreshing sensibility has helped her deal with the disappointments that follow a career in acting—case in point, her reaction to her role as Mary Jane Watson being ultimately cut out from The Amazing Spider-Man 2. "For a few hours it was literally like, 'Oh, my God, was I awful? Why did they cut me? What are people going to think?' I woke up the next morning and I was like, 'O.K., it makes total sense.' I'm a pretty spiritual person, so I can just sit back and trust that everything happens for a reason, even if my ego doesn't like it."

Woodley also confides in Smith that her commitment to saving the world could get in the way of her love life—at least when it comes to dating a fellow actor, which she's hesitant to do. "I'm never going to say never. I love acting, but I also really love nature and most actors don't want to get dirty." She tells Smith she considers herself lucky not to have had to work with any, as she puts it, "dicks," and shares a special camaraderie with Miles Teller, her co-star in last year's The Spectacular Now and Divergent. "I look at Miles and, like, I'm sort of Julia Roberts in the same way she is to George. Their relationship I could see being our relationship in 20 years, and that really is special."

The last word on Woodley comes from the male co-star who perhaps knows her best. "We'll be talking about Shailene Woodley 40 years from now," Clooney says. "I've never seen anyone so young that has so much together."
There's no denying our love for her. What about you, Initiates? We can't wait to see her in
Insurgent
!
Tags: Cast News, Divergent, Divergent Cast, Inurgent Cast, Miles Teller, Shailene Woodley, Vanity Fair